Stroud Against the Cuts leaflet on Disability Cuts:
(first produced for leafletting during the Paralympics, which have been sponsored by ATOS, the company taking disability benefits away from people)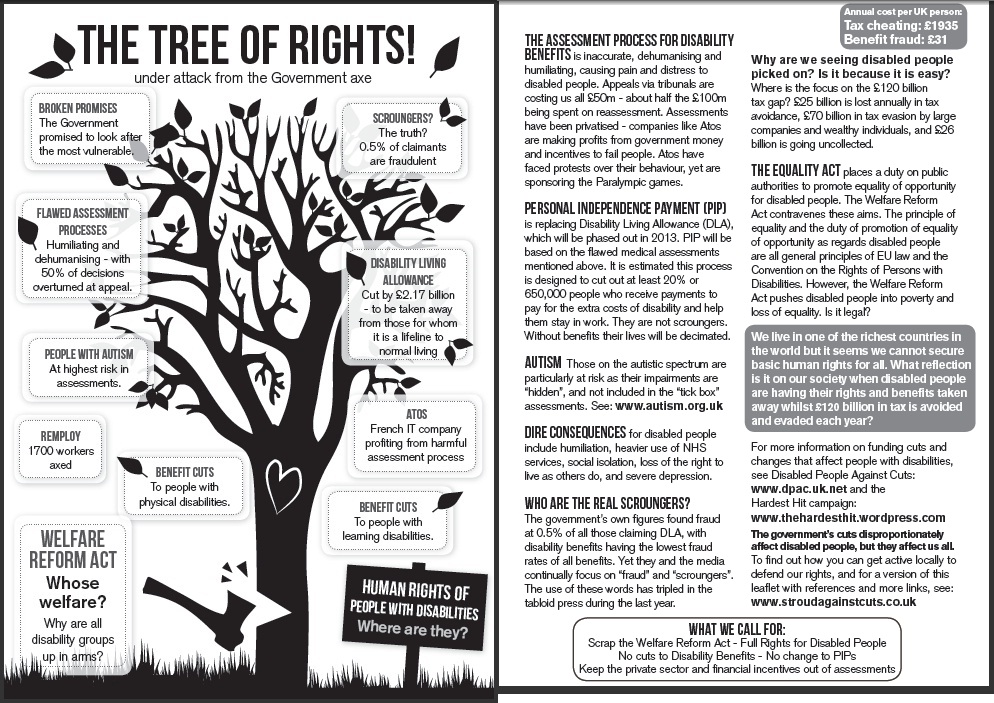 Rear Page - details
The ASSESSMENT PROCESS FOR DISABILITY BENEFITS is inaccurate, dehumanising and humiliating, causing pain and distress to disabled people. Appeals via tribunals are costing us all £50m - about half the £100m being spent on reassessment. Assessments have been privatised - companies like Atos are making profits from government money and incentives to fail people. Atos have faced protests over their behaviour, yet are sponsoring the Paralympic games.
PERSONAL INDEPENDENCE PAYMENT (PIP) is replacing Disability Living Allowance (DLA), which will be phased out in 2013. PIP will be based on the flawed medical assessments mentioned above. It is estimated this process is designed to cut out at least 20% or 650,000 people who receive payments to pay for the extra costs of disability and help them stay in work. They are not scroungers. Without benefits their lives will be decimated.
AUTISM
Those on the autistic spectrum are particularly at risk as their impairments are "hidden", and not included in the "tick box" assessments. See: www.autism.org.uk
DIRE CONSEQUENCES for disabled people include humiliation, heavier use of NHS services, social isolation, loss of the right to live as others do, and severe depression.
WHO ARE THE REAL SCROUNGERS?
The government's own figures found fraud at 0.5% of all those claiming DLA, with disability benefits having the lowest fraud rates of all benefits. Yet they and the media continually focus on "fraud" and "scroungers".
The use of these words has tripled in the tabloid press during the last year.
Why are we seeing disabled people picked on? Is it because it is easy?
Where is the focus on the £120 billion tax gap? £25 billion is lost annually in tax avoidance, £70 billion in tax evasion by large companies and wealthy individuals, and £26 billion is going uncollected.
THE EQUALITY ACT places a duty on public authorities to promote equality of opportunity for disabled people. The Welfare Reform
Act contravenes these aims. The principle of equality and the duty of promotion of equality of opportunity as regards disabled people
are all general principles of EU law and the Convention on the Rights of Persons with Disabilities. However, the Welfare Reform Act pushes disabled people into poverty and loss of equality. Is it legal?
We live in one of the richest countries in the world but it seems we cannot secure basic human rights for all. What reflection is it on our society when disabled people are having their rights and benefits taken away whilst £120 billion in tax is avoided and evaded each year?
What we call for:
Scrap the Welfare Reform Act - Full Rights for Disabled People
No cuts to Disability Benefits - No change to PIPs
Keep the private sector and financial incentives out of assessments
For more information on funding cuts and changes that affect people with disabilities, see Disabled People Against Cuts:
www.dpac.uk.net and the Hardest Hit campaign:
The government's cuts disproportionately affect disabled people, but they affect us all. To find out how you can get active locally to defend our rights, and for a version of this leaflet with references and more links, see: www.stroudagainstcuts.co.uk
Front page - headings
The Tree of RIGHTS!
under attack from the Government axe
The Government promised to look after the most vulnerable.
FLAWED ASSESSMENT PROCESSES
Humiliating and dehumanising – with 50% of decisions overturned at appeal.
At highest risk in assessments.
To people with physical disabilities.
To people with learning disabilities.
DISABILITY LIVING ALLOWANCE
Cut by £2.17 billion - to be taken away from those for whom it is a lifeline to
The truth? 0.5% of claimants are fraudulent
Why are all disability groups up in arms?
HUMAN RIGHTS OF PEOPLE WITH DISABITIES
French IT company profiting from harmful assessment process