Press Release 21/11/2014 Stroud Against the Cuts
Contact: James Beecher via This e-mail address is being protected from spambots. You need JavaScript enabled to view it or 07734 058789
BEDROOM TAX TENANTS IN HARDSHIP REFUSED ASSISTANCE MONEY FROM SDC
Stroud District Council has refused to pass on central government money given to it order to help those in hardship to housing tenants, including one who faces eviction and another who has only been eating once a day.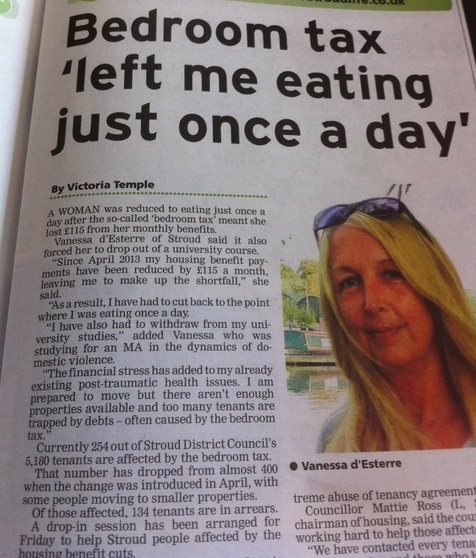 Author Maria Shelley, who has been unable to meet rent payments since her housing benefit was reduced in April 2013 due to the introduction of the Under Occupancy Charge or 'bedroom tax'. As a result she has built up £846.39 of arrears (as of 6th November 2014), and has received a letter from SDC warning of "legal proceedings" that may "leave you with a poor credit rating", "Prevent you moving home via Gloucestershire Homeseeker and Homeswapper" and "lead to your eviction". Maria Shelley is appealing against SDCs decision to cut her housing benefit on the grounds that the 'bedroom' is too small and is used for reasonable alternative use (3, 5).
The council has recommended that any tenants unable to meet rent payments because of a cut to housing benefit apply for hardship
payments known as 'Discretionary Housing Payment' (DHP). Indeed, this recommendation was made in a letter to Ms Shelley just two days before she was informed that despite her disability and arrears she would not be eligible for a hardship payment. Another tenant, a domestic violence survivor, has been refused DHP despite the fact that she has been forced into an overdraft and using food banks in order to continue to pay rent (1). Last year SDC returned a substantial sum of money to central government, responding to criticism of this by saying: "We cannot force people to claim discretionary housing payments if they don't want to and are legally obliged to return any unspent sums to the government." (2)
Maria Shelley said:
"I feel very upset that in some places I might be eligible to get DHP but here in Stroud they're not taking my health into account – instead the fact I receive disability benefits counts against me and they're taking the risk of exacerbating my illness. I would have liked the letters from my Doctor to have been given more consideration by SDC because of the impact of stress on my body, and my Doctor is very angry and disappointed that they have ignored her professional opinion. They just don't seem to get it."
A letter from Miss Shelley's doctor to SDC's Housing Department dated 21st July 2014 said: "I am not knowledgeable in regards to the legalities of the bedroom tax but I have to say that Miss Shelley is in a vulnerable unstable state of health. If taken to court or forced to move, a mental and physical breakdown may occur and may well need a second bedroom then for carers/family to come and look after the patient"
Vanessa d'Esterre: "I am trapped in the house I was abused in and I want to move, but I have found that most one- and two-Bedroomed HA properties exceeds the rent of the three-bedroomed house I currently live in. I suffer from PTSD and acute Anxiety and Depression as a direct result of my Domestic Violence & Abuse experiences, but although I need a Safe House and a Safe Location to live in, I have been told that I can only apply to a Council if I have close relatives living in the area. I have not been considered for several Council properties that I felt were in a safe location to bid on, because of the sheer level of community need in the Emergency Banding and the lack of one bedroomed properties in
and around the County. Renting privately is unrealistic – it's unobtainable and unaffordable. Stroud District Council's answer to this is that I could live in Bed & Breakfast. If SDC are advising women that this is a Safe option to Refuge Spaces that do not exist, then I feel that they are either ignorant of Domestic Violence Abuse issues, paying lip service to safeguarding the vulnerable, or so severely underfunded due to central government funding cuts that they cannot function properly.

I have recently been refused Discretionary Housing Payment. Because of the lack of guidance and because I am so distressed I omitted some expenditure on my form. In order to meet other costs I have no landline Telephone, Broadband or Television and I also go without heating and mostly eat only once a day. These sacrifices essentially impact on my mental and physical disabilities and prevent me from moving forward and going back to my career. I will be asking SDC to Review my DHP."
James Beecher,
one of SATC's volunteer co-ordinators said: "The way tenants are being treated is heart-breaking. I'm disgusted by the way people in obvious hardship are being forced through frankly bizarre bureaucratic hurdles in order to access money intended for them which the council is saying they can't give away. It's not that there's a shortage of people applying, it's that the council is acting like Scrooge – except with no benefit to its own budget. We'll continue to campaign for more sensible policies with a serious sense of urgency as tenants face a bleak Christmas" (4).
Notes for editors:
1. A letter from Vanessa d'Esterre previously published in the Stroud News and Journal: http://www.stroudnewsandjournal.co.uk/news/lettersextra/11510011.print/
2. "Eighteen tenants hit by bedroom tax at risk of eviction – campaigners claim" – Stroud News and Journal story http://www.stroudnewsandjournal.co.uk/news/11492022.Eighteen_tenants_hit_by__bedroom_tax__at_risk_of_eviction__campaigners_claim/?ref=mr
3. Further coverage in the Stroud News and Journal of Stroud Against the Cuts campaign for tenants to appeal against imposition of the bedroom tax http://www.stroudnewsandjournal.co.uk/news/11518174.___Bedroom_tax____protest_hits_Stroud/
4. Report in Stroud Life on Stroud Against the Cuts' 2013 attempts to persuade Stroud District Council to adopt a formal 'no bedroom tax evictions' policy and other policies to aid tenants: http://www.stroudlife.co.uk/Bedroom-tax-evictions-debate-Stroud-District/story-20241697-detail/story.html
5. Stroud Against the Cuts' webpage on "How to appeal against the cut to housing benefit (the under occupancy charge or bedroom tax" http://stroudagainstcuts.co.uk/fightback/disability/41-disability-cuts/174-how-to-appeal-against-a-reduction-in-your-housing-benefit-bedroom-tax.html