Press Release, Stroud Against the Cuts, 10/11/2015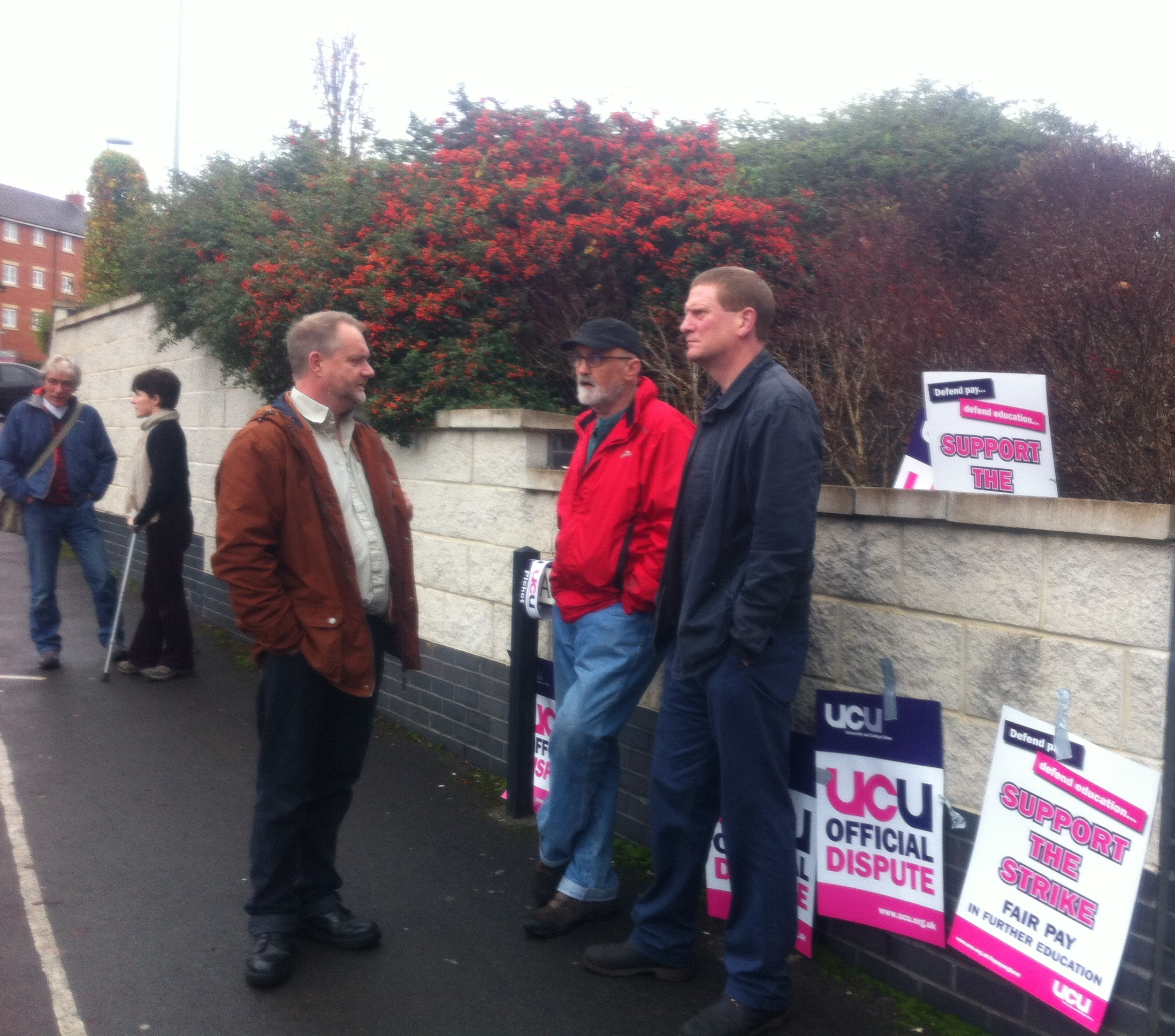 Stroud Against the Cuts support lecturers on strike at Stroud College
Members of Stroud Against the Cuts visited the picket line at Stroud College today to show solidarity with members of the University and College Union (UCU) who are taking strike action over pay cuts and attacks on further education (FE). Lecturers have suffered a real terms pay cut of over 17% in recent years – with take home pay declining in value in each of the last six years. Trade unionists and their supporters say the strike is not just about pay – but about defending the quality of further education against cuts.
Robin Lewis, Chair of Stroud College UCU branch said: "We were asking the Association of Colleges for a £1 per hour rise which they've declined and actually the offer is a pay freeze. Clearly that's quite derisory and caused a lot of anger within the sector, so we've come out on strike against that. In real terms our pay has dropped year on year – we get 1% sometimes, sometimes we get nothing and that's been going on for at least four or five years now. Since 2008 we've had an 18-19% pay cut in real terms, so lecturers are starting to feel that enough is enough. It's also in general about cuts in the FE sector. We have had some really drastic cuts and the whole sector is struggling now. Many of our class sizes have increased enormously – students are getting a much worse deal now from colleges because of that. Lecturers are more and more under pressure, the workload has increased dramatically – so the quality of provision is now starting to be affected by those cuts"
James Beecher, Chair of Stroud Against the Cuts said: "The government's assault on public services includes a range of attacks on Further Education – and we must stand up to defend it. Stroud Against the Cuts supports Further Education workers and supports the strike. The cuts under the coalition have already caused redundancies – including here in Stroud. Class sizes are growing, courses are being cut and education is being undermined. Now the government is planning a further funding cut of 25% - potentially threatening nearly half of England's sixth-form colleges and one in three further education colleges with closure."
UCU general secretary, Sally Hunt, said: 'The current cuts to adult education budgets are a devastating blow to colleges and will change the face of further education in many parts of the country. Funding for adult skills has already fallen 35% since 2009, and the latest reductions could be the final nail in the coffin for some courses. Not everyone needs or wants to study an apprenticeship, but colleges are being forced to prioritise apprenticeships over other kinds of learning. This will shut the door on many learners who use adult education as a springboard for improving their skills. On top of the reduction in budgets, the focus on rationalisation and efficiency through area reviews can only lead to a narrower curriculum and risks leaving many students high and dry if their aspirations don't match local economic priorities. Colleges need stable investment to continue to help people of all backgrounds fulfil their potential'
Notes for editors:
For more information see the UCU's page on the dispute and strike.
Stroud Against the Cuts produced a video from the picket, from which Robin Lewis' quote is taken.

On government funding cuts and potential closures see the UCU press release or "Education budget cuts could see closure of four in ten sixth form and further-education colleges".